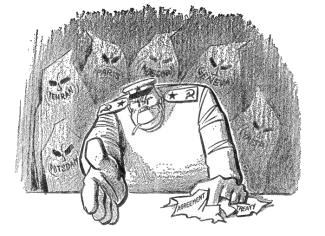 Never one to forget a good idea, the Soviets can be expected to extend an invitation for another Summit Conference. there will be a new Spirit at the conference table, but the old spirits will be present too.
---
1960
In need of a new forum, Mr. K. put in a personal appearance at the UN. He introduced some new techniques in diplomacy, almost lost a shoe, but stole the show while his "little helpers" cheered on.
---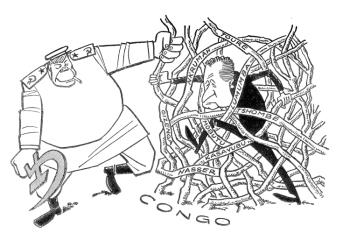 Freedom in the Congo meant the return of the law of the jungle. The Soviets were eager to cut a clear path through it, leading to Moscow of course. The UN, with Hammerskjold in high command, plunged into the picture, but the situation remained somewhat tangled.
---
On to Page Thirty Four!!