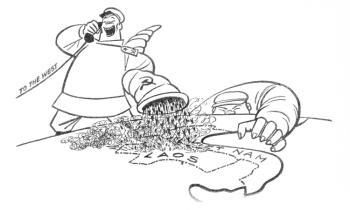 Laos is an underdeveloped country, so the Soviets are eager to develop it. To establish schools, hospitals, industry, modern africulture and peace, the Soviets air-dropped arms, ammunition and military technicians; because first chaos has to be developed. Out of chaos emerges Communist culture.
Meanwhile Russia was deeply engaged in conversations about cease-fire talks.
---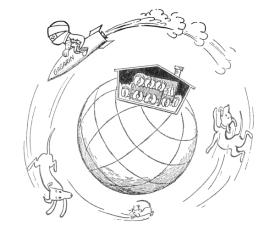 1961
Since man's best friends had been in orbit for years, it was high time for man himself to join them. Major Gregarin received the highest honor in Russia, higher than the Lenin order: He got a private apartment.
---
East Germany was a full sack, but it had a leak. Day after day thousands were foolish enough to choose the West in preference to Communist Paradise.
---
On to Page Thirty Five!!